ウィル'sブログ&ニュース&最近のレッスン
2018
SOUTH AFRICA 2018
I took this photo during my trip to South Africa this year 2018. Over one hundred elephants. Amazing site.
サウサンプトンFC
プレミアリーグ・サウサンプトン
出身地、サウサンプトンチームを応援しています。
現在、吉田麻也選手がサウサンプトンチームで活躍しています。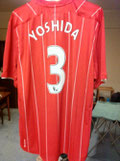 My students in my high level lessons studied how Tanzania's President John Magufuli has advised women in his country to stop taking birth control pills. He said the reason was because Tanzania needed more people and the country was now wealthy enough to feed and educate many children. President Magufuli said: "Women can now give up contraceptive methods."