ウィル'sブログ&ニュース&最近のレッスン
2018
SOUTH AFRICA 2018
I took this photo during my trip to South Africa in January this year 2018. Over one hundred elephants. Amazing site.
サウサンプトンFC
プレミアリーグ・サウサンプトン
出身地、サウサンプトンチームを応援しています。
現在、吉田麻也選手がサウサンプトンチームで活躍しています。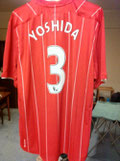 My high level students and I studied how France beat Croatia 4-2 in the final of the FIFA World Cup in Moscow on Sunday night. It was a thrilling and high-scoring end to a hugely successful tournament. France's victory came 20 years after their very first success in 1998. French coach Didier Deschamps became only the third man to win the competition as a player and coach. The final was a true spectacle that had quality football, controversial refereeing decisions, an own goal, a pitch invasion, and a goalkeeping howler. Billions of people around the world watched as France slowly imposed their quality on the game with a team full of outstanding talent, which included the next global superstar - the explosive 19-year-old forward Kylian Mbappe.