ウィル'sブログ&ニュース&最近のレッスン
2018
SOUTH AFRICA 2018
I took this photo during my trip to South Africa in January this year 2018. Over one hundred elephants. Amazing site.
サウサンプトンFC
プレミアリーグ・サウサンプトン
出身地、サウサンプトンチームを応援しています。
現在、吉田麻也選手がサウサンプトンチームで活躍しています。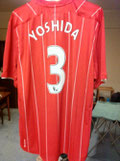 My students in my high level lesson this week studied how the cafe chain Starbucks has made a new policy about who can use its cafes. Starbucks CEO Howard Schultz has announced that anyone can enter a Starbucks cafe in the USA without needing to make a purchase. That means people are free to sit in the cafe or use the restrooms. Mr Schulz has asked all Starbucks staff to treat every person entering the cafe as a customer.