ウィル'sブログ&ニュース&最近のレッスン
2018
SOUTH AFRICA 2018
I took this photo during my trip to South Africa this year 2018. Over one hundred elephants. Amazing site.
サウサンプトンFC
プレミアリーグ・サウサンプトン
出身地、サウサンプトンチームを応援しています。
現在、吉田麻也選手がサウサンプトンチームで活躍しています。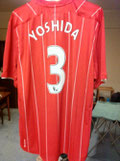 My high level students and I studied how airports will soon add a new layer to their security procedures. Several airports in Europe will start giving lie detector tests to passengers. Special lie detector machines will use artificial intelligence to test travellers. The lie detector machines are backed by a European Union project called i-BorderControl.