ウィル'sブログ&ニュース&最近のレッスン
2018
SOUTH AFRICA 2018
I took this photo during my trip to South Africa this year 2018. Over one hundred elephants. Amazing site.
サウサンプトンFC
プレミアリーグ・サウサンプトン
出身地、サウサンプトンチームを応援しています。
現在、吉田麻也選手がサウサンプトンチームで活躍しています。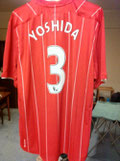 My students in my high level lessons this week studied how the passport of the United Arab Emirates (UAE) has risen to the top spot on the list of the world's most powerful passports. This is according to the Passport Index - an online service that provides insights on passports and required visas. UAE passport holders now enjoy the greatest freedom of movement globally of any nationality in the world. The Passport Index shows that UAE passport holders can travel visa-free to 167 countries and require an entry visa from 31 countries.