ウィル'sブログ&ニュース&最近のレッスン
2018
SOUTH AFRICA 2018
I took this photo during my trip to South Africa this year 2018. Over one hundred elephants. Amazing site.
サウサンプトンFC
プレミアリーグ・サウサンプトン
出身地、サウサンプトンチームを応援しています。
現在、吉田麻也選手がサウサンプトンチームで活躍しています。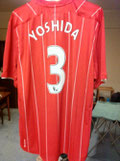 My high level students and I studied and discussed in English in my high level lessons that using social media too much and posting many selfies have caused a rise in narcissism, according to a new study. Narcissism is when someone becomes very selfish and believes they are very talented and beautiful. They need attention from other people and think they are better than everyone else.